There are simple things you can do to keep you and your family safe. Drowning is a leading cause of injury-related death for Canadians, and it often happens quickly and silently.
Swimming, bath time and water play can be a lot of fun for children. Parachute wants families to enjoy swimming and water play as a part of a healthy, active lifestyle.
According to the Canadian Drowning Prevention Coalition's Canadian Drowning Prevention Plan 4th Edition:
An average of 452 people died from drowning each year between 2011 and 2015.
The highest water-related fatality rates in 2011 to 2015 occurred among seniors 65 years and older and young adults 20 to 34.
The highest rates of drowning are found among men, seniors 65 and older, young adults 20 to 24 years of age and adults 55 to 59 years of age.
Water-related deaths are most likely to occur during the summer, on weekends and in natural bodies of water such as lakes and rivers.
Fewer drowning deaths occur in man-made settings but, among these, bathtubs and private pools are most common.
Almost two-thirds of all deaths from unintentional drowning occurs during a recreational activity, and another quarter during daily living activities. The most common are boating and aquatic activities such as swimming and wading.
Get training
Swimming lessons
Swimming lessons are a good way for all ages to gain confidence around water but swimming lessons alone cannot prevent children or adults from drowning. Contact your local municipality to find information on training in your community.
Children five years of age and older can begin to learn swimming strokes and water skills.
Children under five years of age do not have the physical skills to perform swimming strokes on their own.
Swimming lessons for toddlers should focus on introducing children to the water and teaching parents about water safety.
Always supervise your child closely even as they become a stronger swimmer.
Teach your child about water safety rules and currents in lakes, rivers and oceans. As your children gets older and their swimming skills get better, teach them age specific water safety rules. It will help them understand why they can't do certain things when they are around or in water.
First aid/CPR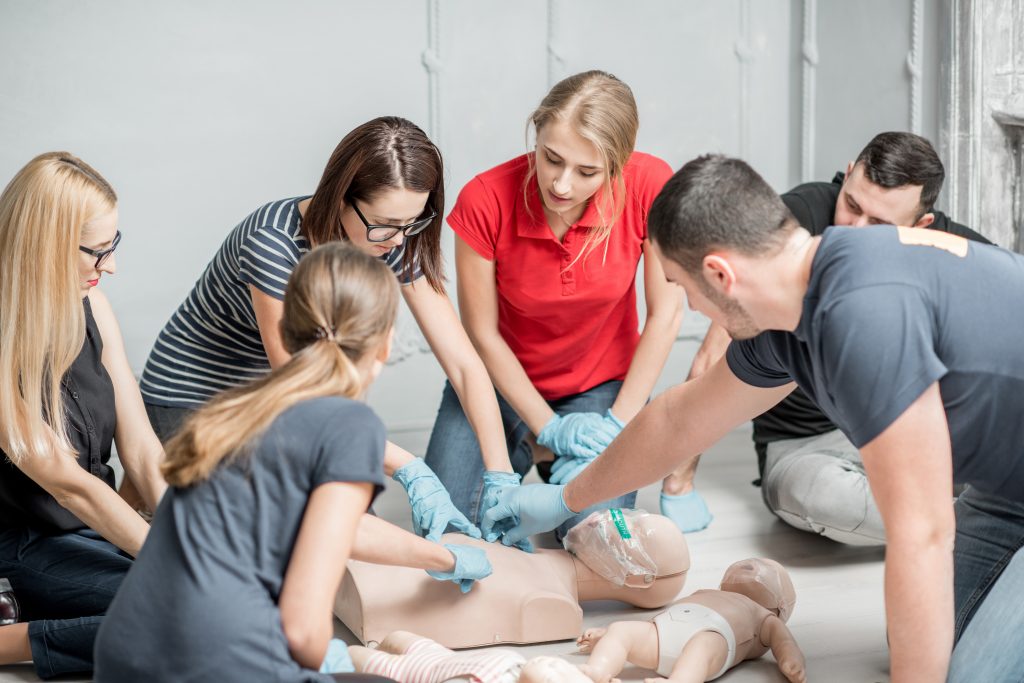 Get trained in CPR (cardiopulmonary resuscitation), first aid, water rescue and swimming skills. These forms of training can help you to safely help others who are in trouble. Every year, people die when they attempt to rescue others in the water because they weren't trained in water rescue.
Supervision and the buddy system
For children, make sure there's always an experienced swimmer within sight and reach whenever they are in or near water, especially if your child is a weak swimmer. This includes backyard pools, bathtubs, and open bodies of water such as lakes, rivers and oceans. If your child happens to slip into the water, an experienced swimmer will need to get the child out of the water quickly and perform CPR, if necessary.
An older sibling or buddy who isn't an adult can't safely supervise a younger child. Children have drowned when an older child or sibling was watching them. Be sure to watch older children closely, too. Even if older children can swim, they can still get into trouble in water.
For adults, always swim with a buddy. Even if you are a good swimmer, you can still find yourself in dangerous situations in the water.
Children are at special risk for drowning
Children under five years of age
All children are at risk for drowning but young children under five years old are at special risk because:
They are attracted to water but can't understand the danger.
They can walk but they can't swim.
They lack balance and co-ordination and are at increased risk of falling into water.
Their lungs are smaller than adults and fill quickly with water.
They can drown in as little as 2.5 centimetres (one inch) of water.
Children five to 14 years of age
Older children may overestimate their own skills, underestimate the depth of the water or strength of the current, or respond to a dare from a friend.
Physical strength develops throughout childhood. Even a good swimmer can get into trouble, especially in unfamiliar water or environments.