Lifejacket or PFD
A lifejacket holds the person wearing it upright. It can turn the person over from face down to face up.
A personal flotation device (PFD) will keep a person floating, but not necessarily face up. A PFD is lighter and less bulky than a lifejacket. PFDs keep people warmer in the water because the foam in the vest is evenly distributed around the body.
You can choose either a lifejacket or a PFD for your child, as long as it is designed for children.
In Parachute's safety information, we use the word "lifejacket" when we are talking about all approved safety vests for the water, including PFDs, to keep our information as clear and simple as possible.
Wear properly fitted lifejackets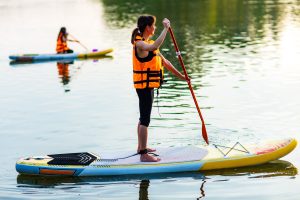 Wear a properly fitted lifejacket at all times. Adults are important role models for children and should wear a lifejacket as well.
Lifejackets for children have weight limits. Adult sizes are based on chest measurement and body weight.
Make sure the lifejacket is comfortable and light so it will be worn. The fit should be snug. For children, it should not ride up over their ears when they are placed in the water.
Buckle the lifejacket up every time and use all its safety straps: you could slip out of a lifejacket that's too big or not buckled up properly.
Check that the lifejacket has:
No rips or damage.
A label to make sure it has been approved by at least one of the following: Transport Canada, Canadian Coast Guard or Fisheries and Oceans Canada.
A whistle – all lifejackets should be equipped with a whistle.
When to wear a lifejacket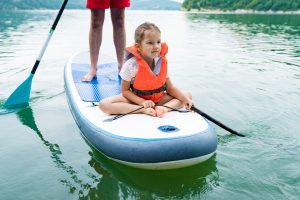 Young children who are weak swimmers should wear lifejackets when they are in, on or around the water. You still need to stay right beside your child.
Everyone should always wear lifejackets when riding in a boat. Eight out of 10 boaters who drown in Canada were not wearing lifejackets when they drowned.
Inflatable toys such as water rings and blow-up rings are not safety devices.
Canadian laws require that recreational boats have one properly fitting lifejacket for each person on the boat, but there is no law requiring people to wear the lifejackets. Nevertheless, lifejackets only work if you wear them.
If you are visiting somewhere where you will be near water, bring a lifejacket. The place you are visiting may not have a lifejacket that fits.
For young children, their lifejacket should also have these special features:
A large collar (for head support)
A strap that buckles between the legs so the lifejacket will not slip over your child's head
A whistle
A waist strap that you can adjust so you can make the lifejacket fit snugly
Ties and/or a sturdy plastic zipper
Bright colour and reflective tape to help you see your child in the water
There are no approved infant-sized lifejackets
There are no Canadian-approved lifejackets for infants who weigh less than nine kilograms (20 pounds): There are "infant-sized" lifejackets on the market but there are no Canadian safety standards for these devices.
We recommend you to wait until your child is at least nine kilograms (20 pounds) and can fit into a Canadian-approved lifejacket before taking them on a boat. Many babies will reach nine kilograms (20 pounds) around nine to 12 months of age.