This public awareness campaign aims to educate Canadians, especially those ages 15 to 24, that cannabis impairs a person's ability to safely operate a motor vehicle.
This campaign grew out of research from the Canadian Centre on Substance Use and Addiction that many teens and young adults didn't believe consuming cannabis affected your motor skills; some even believed they were actually better at physical and cognitive tasks such as driving when they were high.
As cannabis became a legal drug in Canada in fall 2018, Parachute launched a small-scale #KnowWhatImpairedMeans campaign to point out that, while weed was now legal, just as with alcohol, it's illegal to drive high and its negative effect on a person's reaction time and focus means that it was dangerous to yourself, and others, to drive high.
That led to the national #KnowWhatImpairedMeans campaign launched in fall 2019, supported by the Substance Use and Addictions Program of Health Canada. The second phase of the campaign runs in fall 2020, expanding the #KnowWhatImpairedMeans assets and messaging, as well as developing a separate campaign geared to parents of teens, encouraging them to #HaveThisTalk about impairment's negative effects on driving.
Our process and partners
At Parachute, we knew that we needed to reach out directly to people 15 to 24 who used weed, rather than through our traditional approaches that are aimed at a different audience.
We engaged Mass Minority, a data-driven communications studio, to work with us. Their research into previous and current anti-drugged-driving campaigns got at the heart of the issue why few of them resonated with their target audience. "Why don't people listen?" asked Jack Perone, Mass Minority's Chief Strategy Officer. He then showed a photo of a jubilant 4-20 rally after Canada legalized cannabis, and pointed to the celebrating crowd. "Quite simply: they won."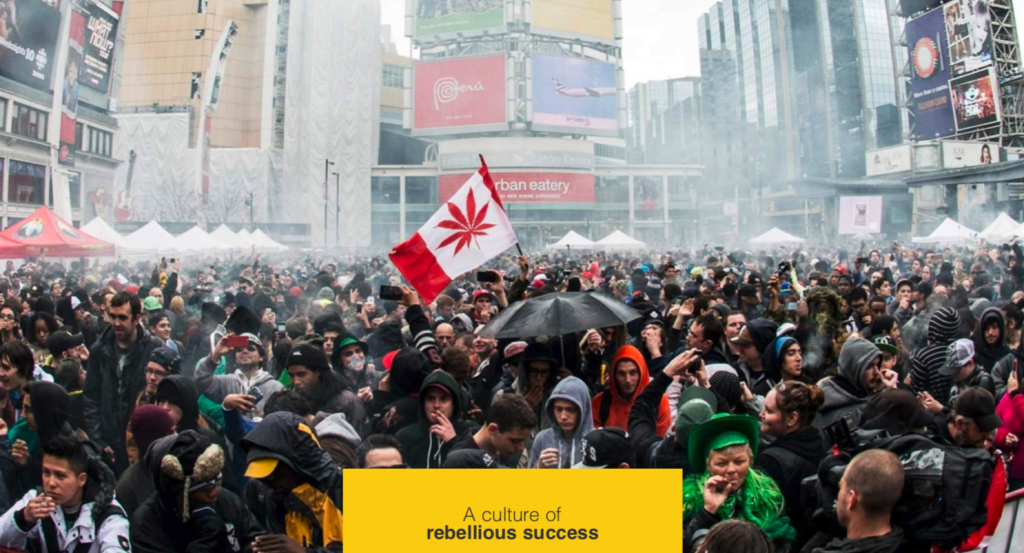 Anyone who tries to point out the many and real effects of cannabis on humans and their ability to perform complex physical and cognitive tasks can be dismissed with the belief, encouraged by legalization, that weed is harmless.
Our campaign, we decided, would lead people to come to the conclusion, themselves, that some activities – including and especially driving – are things you shouldn't do while high. We also decided to stay out of the way of the message: the campaign materials are not branded with our logo so it can be adopted by whoever wants to share them.
Our campaign launch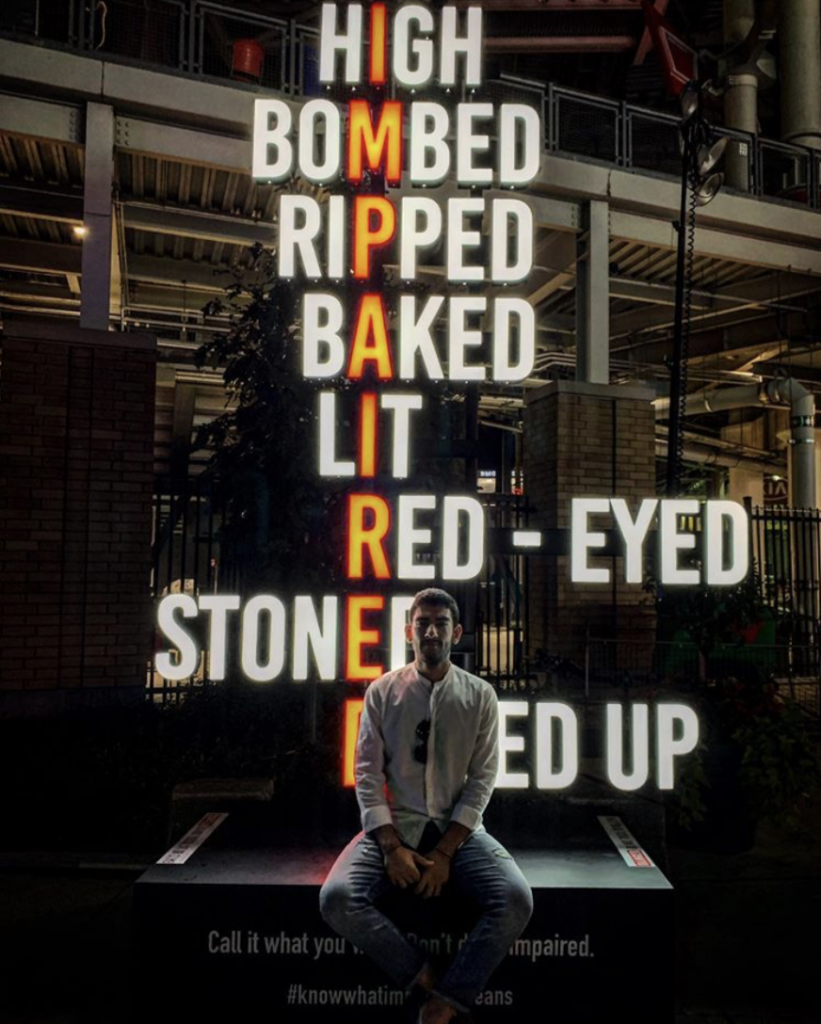 We started with the installation of a light sculpture at the CNE in Toronto, which has 1.5 million visitors annually and is popular with the 15 to 24-year-old demographic we wanted to reach.
The sculpture is made up of words used to describe what you feel like when you use weed: high, ripped, lit, stoned . But when strung together, you see the vertical word forming: "Impaired."
It's a conversation starter, a popular Instagrammable spot, a place to go, yeah, right. If I feel like any of these things, then I'm impaired.
We want to connect versus convince. We want to help people realize that driving while high is the wrong thing to do, rather than just telling them it is.
The sculpture moved in October 2019 to Nathan Phillips Square in Toronto, in front of Toronto City Hall.
Our campaign videos
After more research and testing, we landed on a simple but effective concept: If you wouldn't do this activity high – or trust someone else when they're high to keep you safe – then why would you drive, or get in vehicle with a high driver?
We created two videos at 15 and 30 second lengths, both in horizontal (YouTube) and vertical (Instagram) formats. One follows the story of a first-time skydiver who realizes his parachute packer might be high. The other follows a first-time rock climber who fears her belayer (safety rope holder) is high and not paying attention.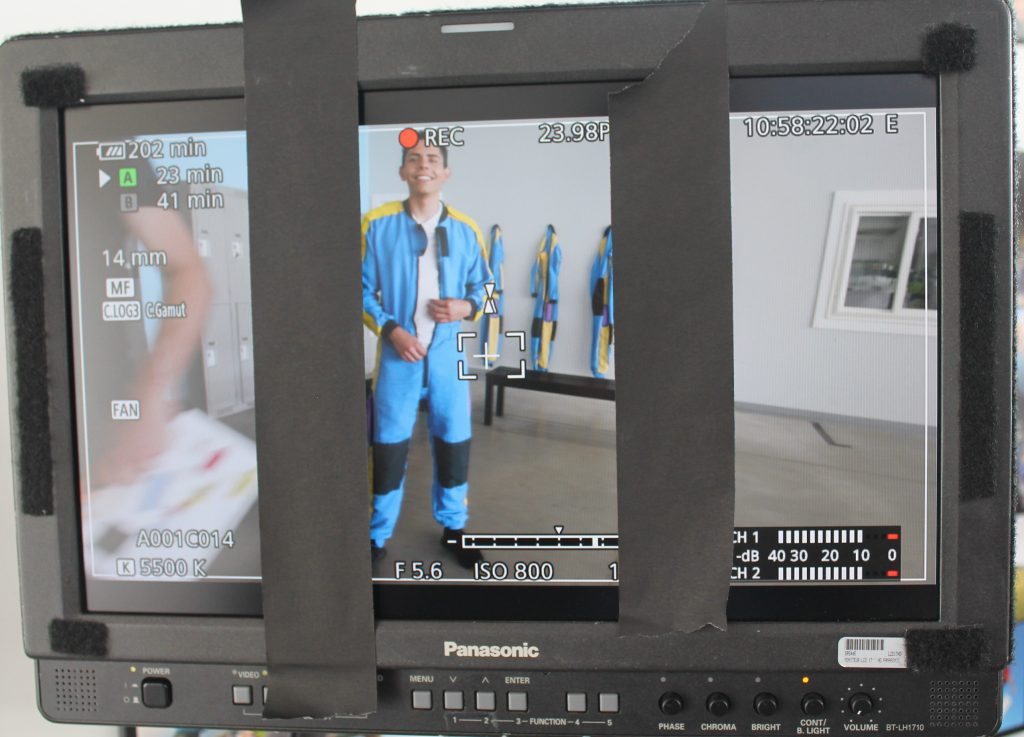 Three more GIFs focus on less-dangerous but nevertheless embarrassing things that can happen when you try do something requiring attention and in-control motor skills while high:
a young woman tries shaping her eyebrow and ends up removing it entirely
a young man tries to sharpen his hair fade and slips
a guy tries to fix his bike and ends up with a mess of parts on the floor
In 2020, we added three more short videos to share in Instagram and TikTok, showing young people who are high messing up on:
baking a cake for mom's birthday
dying blonde hair pink, but the dye lands mostly on the girl's face
cutting the dog's hair, with disastrous/hilarious results
The campaign runs in market from Sept. 14 to end of October, 2020.