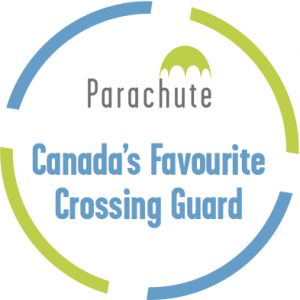 Three crossing guards from Newfoundland, Ontario and B.C. chosen as Canada's favourites
This page was last reviewed on December 17, 2020
Winners come from St. John's, Thunder Bay, and Surrey
TORONTO, Dec. 17, 2020 – One thing that COVID-19 hasn't impacted is the value of crossing guards. Parachute, Canada's national charity dedicated to injury prevention, together with FedEx Express Canada, are proud to announce the winners of their 2020 Canada's Favourite Crossing Guard Contest. The annual contest was launched in 2005 to acknowledge the tremendous efforts of dynamic crossing guards who help keep our children safe.
Three exceptional school crossing guards have been chosen as this year's winners. The recipients, recognized for their extraordinary contributions to their communities, will receive their awards over the next few weeks. Each winning guard receives $500, as does each of their schools.
"Canada's Favourite Crossing Guard Contest gives us the opportunity to highlight how important crossing guards are to school communities across Canada," says Pamela Fuselli, President and CEO of Parachute. "We recognize especially these three winners who go above and beyond their duties to keep children safe on their walks and rides to and from school."
From this year's winning entry citations:
Bill Conway, Larkhall Academy, St. John's, Newfoundland and Labrador:
"Safety. Connections. Heart. These are the core of Bill Conway's practices. He gets students safely across two busy roads in the heart of St. John's. He builds relationships with students and families, listening to their stories, celebrating their achievement, and nurturing friendships. Bill works with municipal traffic enforcement and the Royal Newfoundland Constabulary to ensure people are held accountable for their actions. He has candid conversations with drivers who are distracted and speeding through his school zone, and follows up in traffic court when he reports licence plate numbers."
Al Leonardi, St. Martin Elementary School, Thunder Bay, Ontario:
"Al is out with a smile on his face in the rain, freezing cold and sunshine wishing everyone a happy day and ensuring that each child, parent and adult get across the street safely. For every holiday he decorates his crossing guard hut with a class from the school, he dresses up and wears fun hats. He chats with every child and adult, and does everything he can to put a smile on everyone's face with an extra smile, joke or high five."
Terrence Pitts, Latimer Road Elementary School, Surrey, B.C.:
"Terrence brings energy and safety, and a huge sense of community to our school. He waves and dances for every car that passes by and puts a smile on everyone's face. He makes others feel special, by greeting everyone and asking how they are doing; he tips his hat to every passing car and is never without a huge smile, waving throughout his entire shift."
This year's winners join the ranks of the 45 crossing guards nationwide who have received this honour since Canada's Favourite Crossing Guard Contest was launched in 2005.
"At FedEx, we put safety above all, both in the workplace and in the communities in which we live and work," says Pina Starnino, VP Operations, FedEx Express Canada. "Our drivers know the importance of being extra alert around schools and pedestrian crossings since these are the most important stops they make each day."
About the contest
We received 56 nominations from across Canada. A panel of judges scored each candidate in the categories of:
evidence of support shown for the crossing guard;
safety record of the crossing guard;
proactive initiatives the crossing guard has taken; and
level of involvement of the crossing guard in the community.
For more information on the Parachute and our commitment to pedestrian safety, visit parachute.ca.
– 30 –
Contact and to request media interviews:
Kelley Teahen, Vice President, Communications & Marketing, Parachute
647-776-5128 (office)
416 886-0950 (mobile)
About Parachute:
Parachute is Canada's national charity dedicated to reducing the devastating impact of preventable injuries. Injury is the No. 1 killer of Canadians aged 1 to 34, where on average one child dies every day due to injury. Through education and advocacy, Parachute is working to save lives and create a Canada free of serious injuries. For more information, visit us at parachute.ca and follow us on Twitter, Facebook, Instagram and LinkedIn.
FedEx Corporate Overview FedEx Corp. (NYSE: FDX) provides customers and businesses worldwide with a broad portfolio of transportation, e-commerce and business services. With annual revenue of $71 billion, the company offers integrated business solutions through operating companies competing collectively, operating collaboratively and innovating digitally under the respected FedEx brand. Consistently ranked among the world's most admired and trusted employers, FedEx inspires its nearly 600,000 team members to remain focused on safety, the highest ethical and professional standards and the needs of their customers and communities. To learn more about how FedEx connects people and possibilities around the world, please visit about.fedex.com