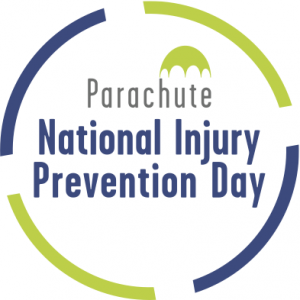 Join us for Parachute's fourth annual National Injury Prevention Day, Monday July 6
This page was last reviewed on June 29, 2020
Our featured activity is a free online talk by bestselling author Dan Heath on Upstream: The Importance of Prevention

TORONTO (June 29, 2020). Parachute, Canada's national charity dedicated to reducing the devastating impact of preventable injuries, presents National Injury Prevention Day, a recognized Health Canada Health Promotion Day.

As part of raising awareness and celebrating the important work of preventing injuries, the leading cause of death of Canadians under age 44, Parachute is offering a free online talk by New York Times bestselling author Dan Heath.The author of the recently published book Upstream: The Quest to Solve Problems Before They Happen, will talk about why prevention is such an effective approach, but challenging to measure the true impact. A question-and-answer period will follow hosted by Pamela Fuselli, President and CEO of Parachute.

Join us for this free presentation by registering at parachute.ca/webinar

As well, municipalities across Canada, from St. John's NL to Victoria B.C., will be pledging their support for National Injury Prevention Day by lighting major landmarks in distinctive Parachute "green" on Monday, July 6, 2020; On July 6, Canadians can support National Injury Prevention Day by taking photos of these landmarks or by donning their own "safety green" and sharing those images on social media using #ParachuteNIPD and #TurnSafetyOn.

Check out our NIPD website for a social media guide that includes injury-prevention infographics to share and help us raise awareness coast-to-coast about the importance of injury prevention. We will continue to update this site with the latest news on cities joining our "Light Canada Green" campaign. To date, nine Canadian municipalities have also proclaimed July 6 National Injury Prevention Day: St. John's NL, Ottawa, ON, Kingston ON, Peterborough ON, Markham ON, Thunder Bay, ON, Saskatoon, SK, Regina SK and Kelowna, BC.

"Dan Heath points out how difficult it is to show why prevention, or upstream interventions, are so important because, when it works, there is no heroic story of saving a life, only the absence of an incident occurring, says Pamela Fuselli, Parachute's President and CEO. "When prevention interventions aren't implemented, there are those brave families who share their grief over lives cut short or drastically changed forever by injury. It's the heartbreaking knowledge that these deaths were preventable that drives me personally, and Parachute as an organization. I'm delighted to share Dan's insights with people across Canada and to urge all of us to join the social media campaign to #TurnSafetyOn and prevent injuries on #ParachuteNIPD."

Landmarks lighting Parachute Green as of June 29, 2020:
St. John's City Hall, St. John's NL
Charlottetown City Hall, Charlottetown, PE
Halifax City Hall, Halifax, NS
The Big Fiddle, Port of Sydney, NS
La Grande roue de Montréal, Montréal, Montreal, QC
Kingston City Hall, Kingston, ON
3D Toronto Sign, Toronto, ON
CN Tower, Toronto, ON
Ryerson Image Centre, Toronto, ON
Toronto City Hall, Toronto, ON
3D Hamilton Sign, Hamilton, ON
Hamilton City Hall, Hamilton ON
Niagara Falls, ON
3D Cambridge Sign, Cambridge, ON
Grand River Pedestrian Bridge, Cambridge, ON
Drayton Fire Hall, Drayton, ON
Medical Centre, Drayton, ON
Municipal Building, Drayton, ON
Moorefield Fire Hall, Moorefield, Ontario
Canada Life building, London ON
Fountain at the Forks, London, ON
JA Taylor Building, London, ON
London City Hall, London, ON
Sifton Properties, London ON
Calgary Tower, Calgary, AB
Telus Spark, Calgary, AB
High Level Bridge, Edmonton AB
Fitzsimmons Bridge, Whistler BC
Maple Ridge City Hall, Maple Ridge, BC
Port Coquitlam City Hall, Port Coquitlam, BC
Canada Place Sails of Light, Vancouver, BC
Science World at Telus World of Science, Vancouver, BC
Vancouver City Hall, Vancouver, BC
BC Parliament Building, Victoria, BC
-30-
Media contact:
Kelley Teahen, VP, Communications & Marketing, Parachute
647 776-5128
media@parachute.ca
About Parachute:
Parachute is Canada's national charity dedicated to reducing the devastating impact of preventable injuries. Injury is the No. 1 killer of Canadians aged 1 to 44, where one child dies every day. The financial toll is staggering, with injury costing the Canadian economy $27 billion a year. Through education and advocacy, Parachute is working to save lives and create a Canada free of serious injuries. For more information, visit us at parachute.ca and follow us on Twitter, Facebook, Instagram and LinkedIn.