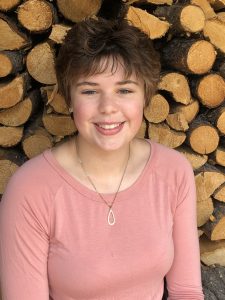 Grande Prairie, AB teen Erin Pelé winner of the 2020 Stacey Levitt Memorial Award
This page was last reviewed on May 20, 2020
This annual award administered by Parachute, Canada's national charity dedicated to injury prevention, honours a Canadian high school student who best exemplifies the spirit, drive and optimism of Stacey Levitt, a Toronto teen killed by a motor vehicle driver.
May 20, 2020 – "Life is too short to be negative", says Erin Pelé, a Grade 10 student at Charles Spencer High School in Grande Prairie AB, and this year's winner of the Stacey Levitt Memorial Award. Erin, diagnosed 18 months ago with leukemia, has made it her mission to educate and to fundraise for childhood cancer research, sharing her journey with local elementary schools.
Dawna Baird, an academic advisor at Charles Spencer High School, says Erin, despite undergoing intensive chemotherapy, "never asks, 'Why me?' Instead, she asks the question, 'What can I do to make this better?' " While she wanted to play competitive volleyball, she was unable to do so and volunteered instead to referee her high school team's games.
Pelé, who turns 16 this week, has maintained a 91-per-cent academic average despite missing 40 per cent of her classes in Grade 9 due to her cancer treatments. She has volunteered with many community and school organizations, including:
Kids for Cancer fundraiser
Terry Fox Run
Stollery Hospital
Maverick Movement Club for social justice projects
Erin says her family is keenly aware of the importance of preventing injuries as her grandfather died from a preventable agricultural injury. "I am highly aware of the importance of avoiding hazards that can cause serious injury. I know how unpredictable life can be and I remind myself, family and friends to take precautions and stay safe."
This annual high school student award encourages Canadian youth to embody Stacey Levitt's qualities and ideals and Parachute's overarching goal of a long life lived to the fullest, while maintaining an approach that is rooted in risk management and injury prevention.
The Levitt family awards $2,500 to help the winning student live their life to the fullest. The award may be put toward an educational endeavour, engagement in sports, or investment in a travel experience – all pursuits that would have resonated with Stacey Levitt.
"We were struck by Erin's courage and tenacity in battling cancer while at the same time working to be a role model for others", says Ned Levitt, Stacey's father and a former board director for Parachute. "During this terrible pandemic, the world needs more people like Erin."
---
For more information or to arrange interviews with Erin, contact:
Kelley Teahen, Vice President, Communications and Marketing, Parachute 416 886-0950 or media@parachute.ca
About Stacey Levitt
Stacey Levitt was born May 19, 1977 at Toronto's Mount Sinai Hospital. She attended Allenby Public School, Glenview Senior Public School and Northern Secondary School. Stacey had a wide variety of interests and lived a busy and active life while growing up in North Toronto with her family – her parents Ned and Cheryl, her sisters Marni and Jacqueline, and many very special and close friends.
On Aug. 30, 1995, the driver of a motor vehicle struck and killed 18-year-old Stacey while she was jogging in her Toronto neighbourhood.
About Parachute
Parachute is Canada's national charity dedicated to reducing the devastating impact of preventable injuries. Injury is the No. 1 killer of Canadians aged 1 to 34, where one child dies every day. The financial toll is staggering, with injury costing the Canadian economy $27 billion a year. Through education and advocacy, Parachute is working to save lives and create a Canada free of serious injuries. For more information, visit us at parachute.ca and follow us on Twitter, Facebook, Instagram and LinkedIn.