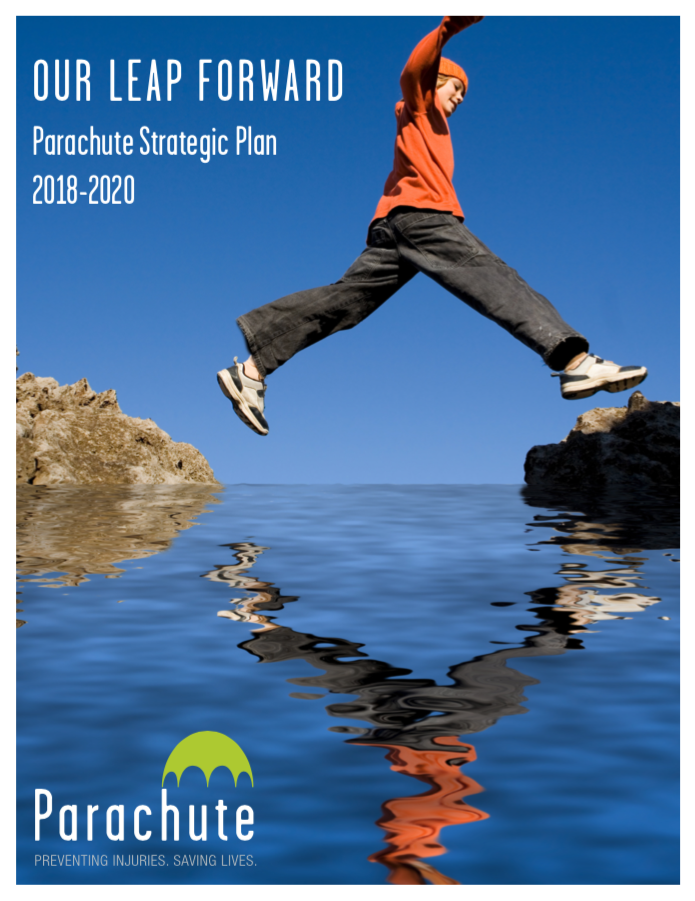 Parachute, a national Canadian charity founded in 2012 devoted to injury prevention, will map its priorities for 2018-2020 directly to the main causes of serious injury in Canada: motor-vehicle crashes, falls, and striking objects. Our focuses are:
Improving road safety to prevent injury
Reducing injury sustained during sports and recreation
In addition to our two main areas of focus, we will be vigilant and pursue opportunities to lessen the burden of other significant areas of injury, where we can form partnerships and expand our scope and capacity.
Senior falls is a significant, and expensive, cause of injury in Canada that will only grow in importance as seniors become a larger percentage of Canada's population.
As Canada's Chief Public Health Officer has stated, the 2016 Census showed that, for the first time, there are more adults over the age of 65 years (5.9 million) than children under the age of 15 years (5.8 million).
The number of Canadians over the age of 85 years is growing four times more quickly than the overall Canadian population. Parachute will advocate that a national effort is needed to address and reduce the burden caused by seniors' falls; as resources are committed, Parachute will position ourselves as a leader in education and advocacy in this field.
We will continue to be a trusted source of evidence-based information and educate Canadians about preventing injuries to children, from falls to pool safety to poison prevention.
Self-harm and suicide are another major cause of injury in Canada. Parachute will support the excellent work of mental health care professionals and organizations in this field, such as the Mental Health Commission of Canada, Canadian Association for Suicide Prevention, and the Centre for Addiction and Mental Health (CAMH).
While injuries can affect anyone, it is important to understand the social determinants of injury and recognize there are priority populations at higher risk. These include children, youth, older adults, Indigenous peoples and those living in low socioeconomic environments.
Strategic Priorities
Our three strategic priorities, and the key initiatives that will support those priorities for 2018 to 2020 reflect who we will be, what we will do, and how we will do it.
Grow Parachute's national leadership in injury prevention
Definition of success by 2020
Continue to galvanize awareness and focus national attention on injury prevention as an important social issue.
Lead and represent Parachute at the appropriate level of participation on major high-level committees in our injury prevention focus areas
Continue to be sought by stakeholders, government, and other decision-making bodies on priority injury prevention issues.
Recognized as the injury prevention knowledge hub, with the access, expertise, and ability to provide credible solutions to key issues, including advocating for policy and legislative changes.
Mobilize high-impact injury prevention efforts working with our unique national networks of leading injury prevention experts, high profile spokespersons and strategic partners.
The Parachute brand is recognized as the national "go to" organization on injury prevention by media, practitioners, leaders in the field, funders, and the Canadian public.
Key initiatives
Contribute to thought leadership in focus areas (road safety, sports and recreation injuries) through participation in national leadership tables and strong relationships with key stakeholders, including researchers
Collaborate with expert individuals and organizations, and monitor the injury prevention environment, to ensure Parachute's work and offerings are evidence-based and reflect current data, statistics and trends.
Build brand awareness and support through ensuring the Parachute brand is central in all outreach and by leveraging media, and appearances / speaking engagements by President and CEO Steve Podborski, other Parachute experts, and advocates.
Advocate for national leadership and investment on the burden of injury related to senior falls and other home-related injuries.
Identify, develop, and effectively share solutions and evidence-based information on injury prevention in our focus areas 
Definition of success by 2020
Ongoing development and/or identification of a wide range of solutions to address our injury prevention focus areas that are evidence-based, have considered the 3Es (education, environment, enforcement), and are implementable, innovative and leverage leading practices.
Impact / effectiveness measurement (evaluation) for our solutions are developed (as appropriate), funded, and executed
Key initiatives
Evaluate and update current solutions to ensure they are promoting the latest evidence and best practices in injury prevention
Develop, launch and evaluate new solutions and information resources to respond to Canadians' needs
Evaluate, strengthen and expand our national network of communities, organizations and individuals committed to build capacity to deliver solutions
Develop and unify Parachute's digital assets so they are accessible and mobile compatible, and the injury-prevention information these contain is current, evidence-based, easy to find, and audience-focused
Undertake robust evaluation of the organization and its activities to measure impact of Parachute's work.
Create and implement sustainable, scalable revenue generation and organizational models
Definition of success by 2020
Create a flexible and scalable organizational model that has the people, processes, technologies, and structures to facilitate delivery of the Strategic Plan.
Maintain a diverse funding portfolio, with no single source accounting for more than 50 per cent of the total.
Establish an operating reserve to fund three months of operating expenses.
Key initiatives
Strengthen and build Parachute's value proposition for donors and funders
Build and broaden Parachute's donor base to enhance our ability to increase unrestricted revenue funding
Generate revenue dedicated to building an operating reserve
Attract and retain a core of talented staff who are aided when appropriate by contractors and other short-term assistance
Incorporate flexibility and scalability factors when making infrastructure decisions.