Is your community concerned about pedestrian safety and unsafe driving? Are you looking for a way to engage community members to create a pedestrian-friendly community?
Become a Parachute Pace Car community!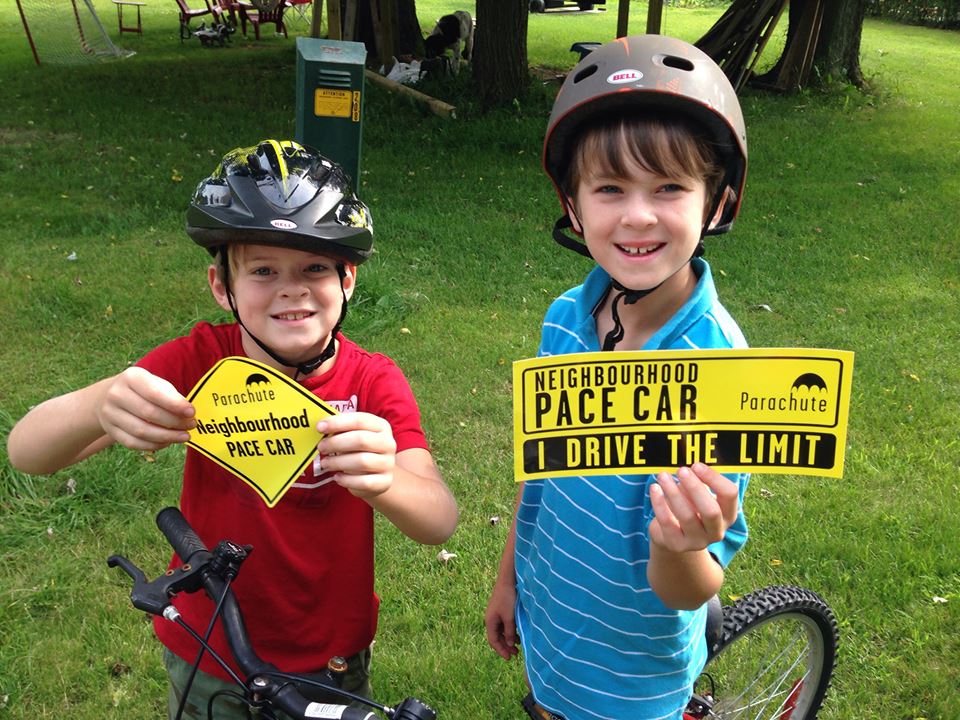 The Pace Car program is a locally delivered, nation-wide program that focuses on raising awareness around speed reduction in the community, especially in school zones and pedestrian-dense areas.
The Pace Car program involves seeking out community members to sign up as Pace Car drivers. Participants will sign the Pace Car Supporters Pledge and proudly display the official Pace Car emblems on their car window.
Many Pace Cars work to calm traffic throughout a neighbourhood – the more people who participate, the better it works.
The Pace Car pledge
Residents agree to drive the posted speed limit.
Cars become a "mobile speed bump" slowing speeding traffic behind them. Traffic is not only calmed on one street, but throughout a neighbourhood.
Drivers also agree to be more aware of, and courteous to, other road users, especially pedestrians and cyclists, and to minimize car use by using active transportation (such as walking and cycling), using transit and car-pooling.
To reduce the chance of road rage, it's important for Pace Car drivers to display the Pace Car stickers so other motorists know why they are driving courteously. If someone urgently wishes to pass, a Pace Car driver simply pulls over and lets them by.
Why you should minimize car use
Social communities
When not in cars, communities can reclaim the streets by using them more often for walking, cycling and neighbourhood socializing. Making streets feel more like outdoor living rooms encourages drivers to act as guests.
Good for the body and environment
Reducing car use also reduces both speed and volume. This makes streets more livable and frees up road and parking spaces that can be recycled into valuable community spaces including: pedestrian and cycle boulevards, green spaces for safe play, and a creative combination of shops and residences that can enhance a neighbourhood.
Save time and money
Most people can significantly reduce their car use (usually by 20 per cent to 50 per cent) by organizing their travel more efficiently. The rewards are a saving in time and money.
Collisions are not accidents
Our local streets are becoming speedways.
Children are particularly vulnerable because they face traffic threats that exceed their understanding and abilities.
Children's physical and mental capacities are still developing well into their teens and they are often unable to make safe judgments about pedestrian safety.
Drivers must be prepared for children to act like children.
A pedestrian struck by a car traveling at 50 km/h is five times more likely to be killed than a pedestrian struck at 30 km/h.
Reducing vehicle speed has been proven to be effective in preventing crashes and reducing the severity of injuries.
At a speed of 30 km/h, vehicles and pedestrians are able to co-exist with relative safety, which means that drivers have sufficient time to stop for pedestrians, and pedestrians can make better crossing decisions.
Create a buzz in your community about Pace Car
Use the tools below to inform your community about this initiative, organize Pace Car volunteers, promote the program in your community and reach out to local media.