Walk This Way is a multi-part pedestrian safety program to reduce child pedestrian injuries and deaths while encouraging healthy and active living.
In Canada, pedestrian injuries are one of the leading causes of injury-related deaths for children 14 years of age and younger. By working together we can and have made a difference! According to Transport Canada, the number of child pedestrian injuries and deaths has slowly declined over the last decade. Parachute wants to see the rates continue to go down because each fatality is a tragedy – most often a preventable one.
Our pedestrian program offers resources and tools for parents, caregivers, teachers and community groups who share our goal of enhancing child-pedestrian safety.
International Walk to School (IWALK) Month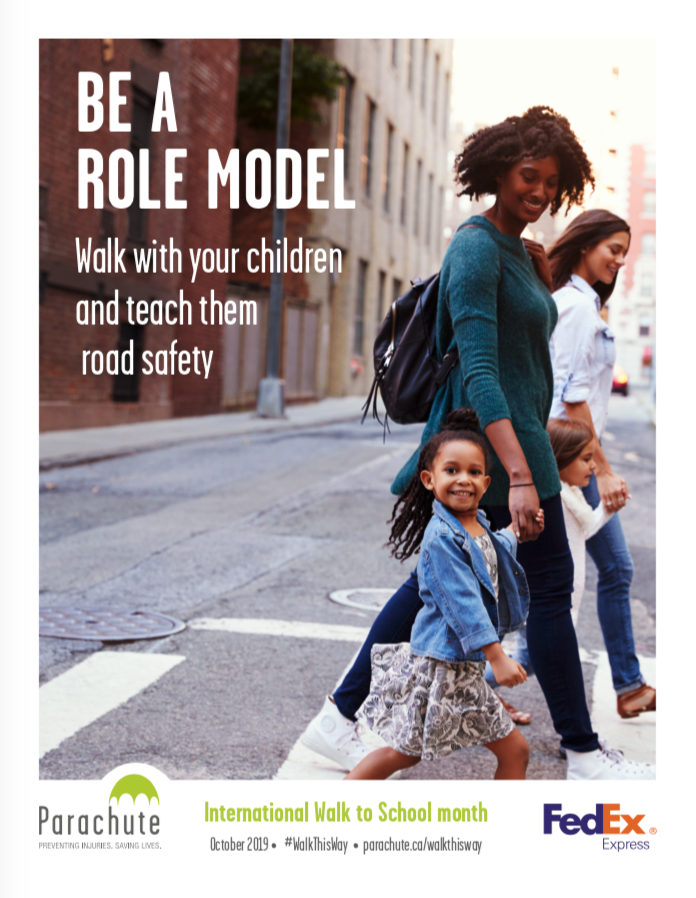 Celebrate IWALK Day – October 2, 2019 – or walk/wheel to school all month!
International Walk to School Month (IWALK) is a global annual mass celebration of active transportation held in October. International Walk to School Month gives children, parents, school teachers and community leaders an opportunity to be part of a global event as they celebrate the many benefits of walking. Walkers from around the world walk to school together for various reasons – all hoping to create communities that are safe places to walk.
Find out more about International Walk to School Month and access resources and materials.
Halloween safety
Halloween can be an exciting time for children and, with the distraction of candy and costumes, safety rules can easily be forgotten. Check out our simple tips to keep Halloween night safe for all.
Canada's Favourite Crossing Guard Contest
An initiative of Parachute and FedEx Express Canada, Canada's Favourite Crossing Guard Contest honours the extraordinary contributions of dynamic individuals who help keep our children safe. The contest opens for nominations in March each year, with winners announced in May. Find out more about the contest.
Safe School Zones
Safe School Zones is a multi-country Walk This Way project that focuses on pedestrian safety around elementary schools, which are called the "school zone." The project aims to improve the safety of pedestrians around schools by evaluating the school zone and implementing different interventions, with a focus on permanent environmental improvements. The project is in support of the Decade of Action for Road Safety (2011-2020). The overall goal is to demonstrate that the Safe School Zone project is effective in reducing the number of collisions, injuries and fatalities on the road.
Parachute awarded grants to two communities to participate in the Safe School Zone project over a two-year period (2019-2020). The grant communities are Sherbrooke Safe Community, Quebec, and Safe Communities Northumberland, Ontario.