Prove you've got what it takes to be crowned Canada's Safest Driver! Download the app for free and track your driving skills. This new contest launches Thursday, October 1 and runs to Thursday, November 26, 2020.
Canadian residents with a valid driver's licence are eligible to participate in this skills-based contest run by Parachute and sponsored by Desjardins, which offers a grand prize of $10,000 and several other smaller prizes to those who score the highest number of points for safe driving behaviours. Contestants must be of age of majority in their province or territory.
Update, Nov. 21, 2020: Congratulations to our third winner: Taylor Andreschefski of Calgary, Alberta, has won the $500 prize for driver who best obeys speed limits, as measured from October 29 to November 12. Taylor also won the Least Distracted Driver challenge.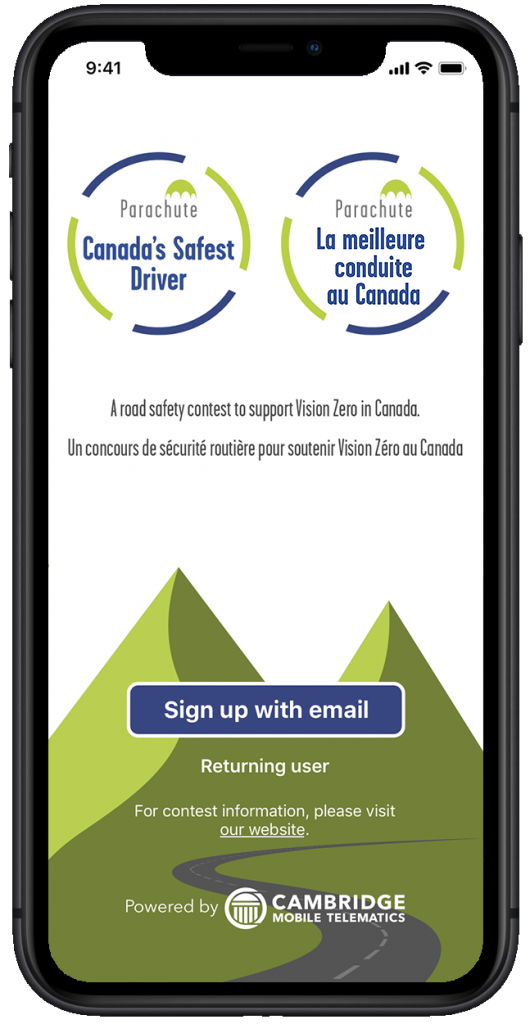 How it works
The Canada's Safest Driver app is available to download for free. Once it's on your phone and you activate it, the app will measure your driving skills when you are in your vehicle. Most people want to be safe drivers, but often cars and roads are full of distractions that lead to unsafe behaviours.
The app, built by Cambridge Mobile Telematics, accurately measures driving quality with smartphone and IoT sensors such as GPS, and provides behavioural feedback. You'll be able to check in regularly with your progress and learn where and how you can improve your safe driving techniques.
Although the app appears on the Apple App Store, Apple Inc. is not a sponsor of the Contest or involved in any other capacity with the Contest.
Canada's Safest Driver records:
Location, speed, and heading
Accelerometer data
Gyroscope data
Magnetometer data
Barometer data
Time
Overall Canadian driving behaviour insights will be shared at the end of the contest but individual records remain private, shared only if a contestant uses the app's "challenge" feature to invite family or friends to compare scores.
What skills get measured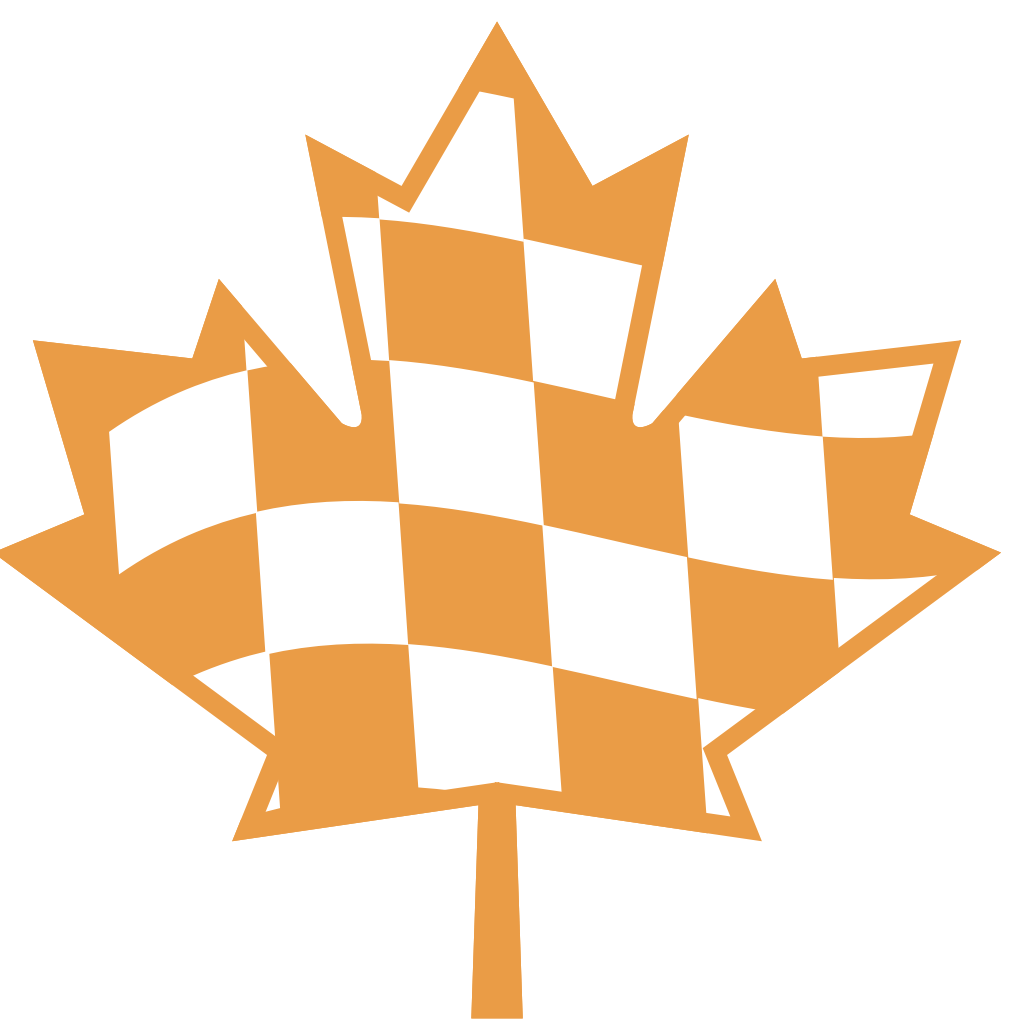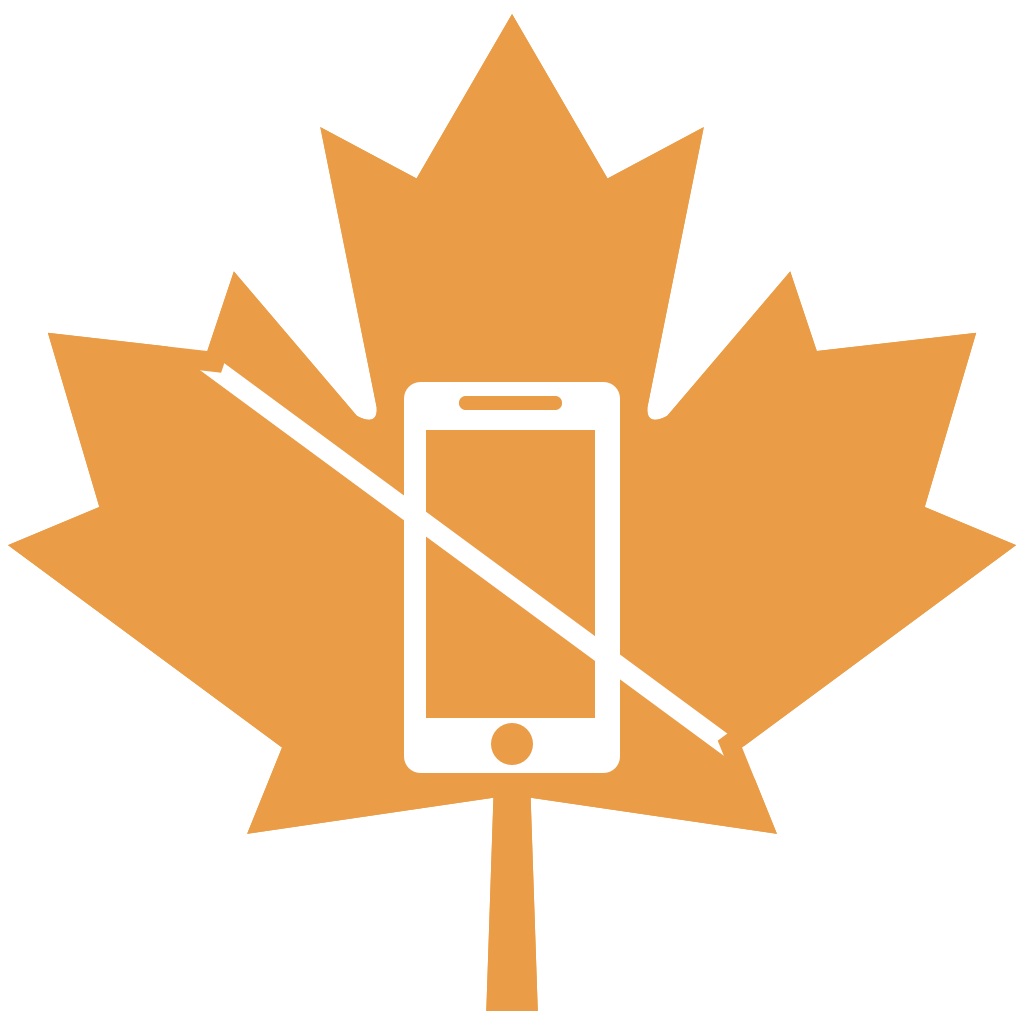 Speed: are you obeying the speed limits on your trip?
Braking: are you screeching to a halt or braking safely in advance of your stop?
Acceleration: do you "gun it" or accelerate at a steady pace?
Cornering: are you taking your turn smoothly or cutting around at a dangerous angle?
Phone distraction: don't touch that phone when you're driving! When the car is moving, if your screen unlocked and on and the app determines that the phone is being handled, your score will be negatively affected.
What you can win
$10,000 grand prize for best overall score during the Grand Prize period of the contest, October 15 to November 26, 2020.
$5,000 second-place prize for overall score during the Grand Prize period, October 15 to November 26, 2020.
$2,000 third-place prize for overall score during the Grand Prize period, October 15 to November 26, 2020.
$500 "Early Bird" prize for the best score in the first 10 days of the contest, from October 1 to October 15
$500 prize for "Least Distracted Driver", as measured from October 15 to October 29
$500 prize for driver who best obeys speed limits, as measured from October 29 to November 12
$500 prize for driver who scores highest on the "smooth braking" criteria, as measured from November 12 to November 26
In addition, all participants can win game badges when they achieve increasingly higher scores in the five measurement areas, plus overall score: You can be a "Caring Canuck", get "Km/h Kudos" and win the ultimate accolade: "Vision Zero, eh?"
Challenge your friends and family
The Canada's Safest Driver app also has a family sharing feature where contestants can invite small groups of peers, colleagues or family members as a "Challenge" – keep track of each other's scores and see who's being the safest driver.
Information you'll find on the app
Dashboard
The top shows your overall score computed over the last two weeks of driving. Tapping on the score shows information about how your score was calculated. The rest of the dashboard has four panels:
the latest scored trip
your achievements
your rank on the leaderboard
how well you have done in avoiding phone distraction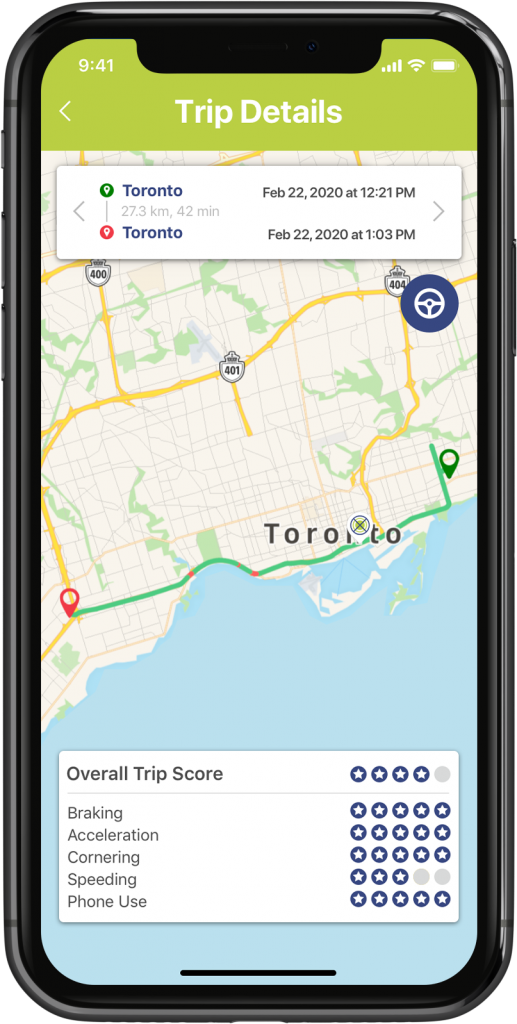 Trips
Shows a list of all your trips. Each trip is scored on a scale from 1 to 5. Selecting a particular trip takes you to a map view of the trip and summarizes important events and scores for the trip. Only the most significant events from a drive are shown on the map. The map also shows any excessive speeding and significant phone distraction.
The app also classifies your trip as "Driver" or "Not driving" (passenger or another mode of transport). If the automatic classification is incorrect, you can change it by selecting the icon located next to the mode classified by the app. By keeping your transport modes accurate, the app learns your driving habits and classifies future trips more accurately.
Driving tips
The app shows personalized tips to improve your driving; these tips depend on the factors that are most responsible for lowering your score.
Achievements
Drive well and accumulate badges for achieving safety milestones.
Leaderboard
Win bragging rights over your friends and leaderboard competitors.
Profile
Change your nickname or email; your nickname can include emojis too.
Settings
Want to use only Wi-Fi to upload sensor data for a trip? Or get notified when results are available? You can use settings to accomplish this.
Permissions and using the app
You will receive permission requests from your phone's operating system once you've downloaded Canada's Safest Driver. You must accept these requests to use the app features and benefit from them. These permissions requests allow us to accurately measure your driving and calculate your score. Note: User settings for location services in iOS need to be set to "Always Allow" in order for the app to work.
How the app collects data
Canada's Safest Driver works in the background and will collect your data any time a drive is detected. However, make sure that your device is charged and turned on during your trips.When the phone's battery is less than 10 per cent, or is turned off, the app won't record any data. The app can collect data without wi-fi but only transmits the data to be included in your measurements when you're connected to the internet.
Changing phones mid-contest
If you ever have to change phones or reinstall the app, simply log in under existing users. A PIN code will be sent to the email address you provided during initial registration.
My data – What is collected, for what purpose and how it is kept safe.
Canada's Safest Driver gathers smartphone data from position and inertial sensors and measures driving quality. All the information of entrants collected in the App at the time of or after registration, all data produced during the contest, all anonymous aggregate data and other information collected or produced by or in the App is owned by Cambridge Mobile Telematics (CMT).
Only collects and maintains the minimum amount of data necessary to provide the services CMT offers to this contest
Doesn't sell any customer information
Doesn't share customer information with third parties unless required by law
Only shares information to the Contest Administrators required to notify prize winners (i.e. user name and email address provided)
Maintains physical, procedural and technological controls to protect customer information and to comply with international privacy laws and regulations.
See more details in the Canada's Safest Driver contest rules.
Learn more details
Read more details available in the app itself: and if you still have a question, please send us an email through the "Help" page of the app.
Canada's Safest Driver is an initiative to support Vision Zero road safety strategies in Canada.